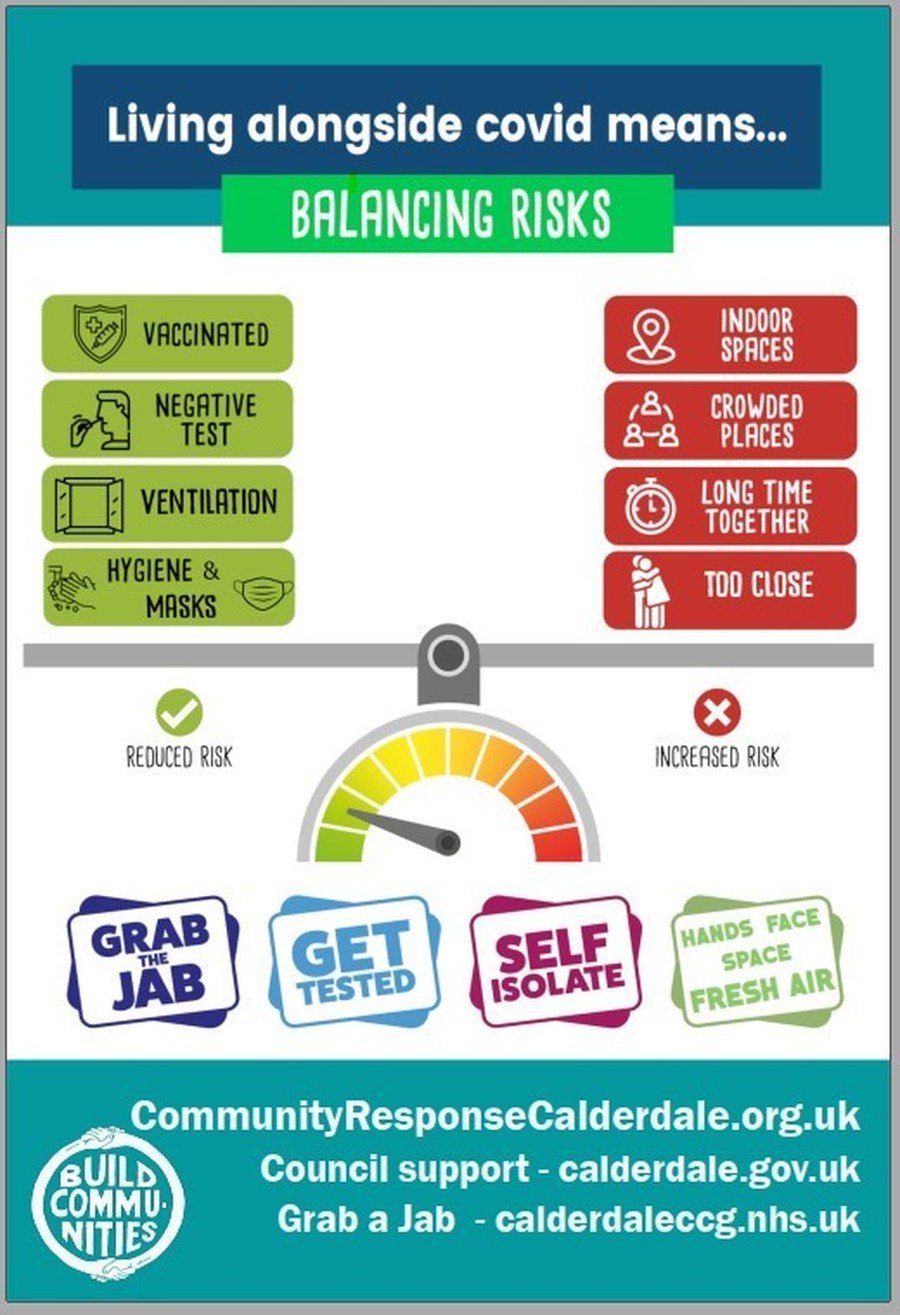 COVID-19 UPDATES
Calderdale Libararies

Joining the library is FREE, it doesn't cost any money and we have an abundance of eBook, eAudio books, eMagazines & comics available to enjoy.

It's also FREE to print homework in Calderdale Libraries; families can email documents through to Central Library and we will let them know when it's ready to collect.


CentralLibraryOpsTeam@calderdale.gov.uk

'NEW RESOURCE' Worry Flashcards for Students Returning to Education

Calderdale's Emotional Health and Wellbeing Service Offer to Children and Young People

http://www.openmindscalderdale.org.uk/wp-content/uploads/2020/07/CYP-guide-EHWB-service-offer-during-COVID-19-1.pdf

9th June 2020

Letter from Julie Jenkins, Director of Children & Young People's Services - Wider opening of schools

16th June 2020

Keeping Calm and Providing Supportive Parenting during the Coronavirus

Update 22nd May 2020

Update 21st May 2020

Re-opening of School - Letter from Calderdale.

Please note that St Malachy's School will open on 8th June 2020 to critical workers only, we will be in touch with details regarding our wider school opening when we have advice from the Academy Trust.

Parent & Young Persons Helpline

Parents Guide - Supporting the emotional health & well-being of children returning to school

Calderdale Council Children's Services

Re: Recent Announcement

Letter from Mrs Lomas, Executive Headteacher

Healthy Futures Calderdale: return to school

In light of last night's announcement, can schools please consider adding the following to their websites and emails to parents:

If you are worried about Coronavirus, and the impact that returning to school may have on your child's physical health or emotional wellbeing, the Healthy Futures Calderdale school nurses are here to offer advice and support:

Call: 0303 330 9974

Text: 07480 635297 (young people) or 07507 332157 (parents/carers)

CHILDREN'S GUIDE TO CORONA VIRUS

The Children's' Commissioner for England has put together this guide which aims to answer children's questions about coronavirus, tell children how to stay safe and protect other people and how to help them make the best of their time at home.

Advice & Useful information for worried parents/carers & families

Addendum (COVID-10) to Safeguarding & Child Protection Policy & Procedure

Government Guidance for Parents and Carers on supporting children and young people's mental health and wellbeing during the Coronavirus (COVID-19) outbreak

Guidance on how to stay safe online when using 'House Party' App.

SCAM EMAILS

Advice from DFE (Department for Education)

We have been informed that some parents have received an e-mail stating the following 'As schools will be closing, if you're entitled to free school meals please send your bank details and we'll make sure you're supported'.

We can confirm that this is a scam and is not official. We urge parents that if you receive any e-mails like this to please not respond and delete it immediately.

If you have any queries or need to contact school during our closure please email:

support@st-malachys.calderdale.sch.uk

Healthy Futures Calderdale School Nursing Team

continues to be available to provide health and wellbeing advice and support for school-aged children and their families.

Contact the team on 030 3330 9974 or search

"Healthy Futures Calderdale" on social media.

CHATHEALTH

is brought to you bt Healthy Futures Calderdale, and allows you to get in touch with a healthcare professional, at the touch of a button, for advice and support about physical health or emotional wellbeing.

Access the service: TEXT 07480 635297 (young people) or 07507 332157 (parents/carers) to start a conversation. From 9am - 5pm Monday to Friday, we have experienced clinicians waiting to help. Messages outside this time frame will receive an automated response letting you know when you will receive a reply, and who to contact to get immediate help.

FREE SCHOOL MEALS

Families entitled to Free School Meals are notified by school with regards to arrangements made.

Please note that this entitlement is different to Universal Free School Meals - which is where every child in Reception - Year 2 receives a free meal from school - funded by the government. This further entitlement needs to be claimed and is assessed by the local government

Noah's Ark Centre's Parent/Carer/School Support Package Summer Term 2020


Dear Calderdale Parents/Carers/Schools,

Noah's Ark Centre's staff, counsellors and therapists usually support many children and young people through counselling, therapeutic interventions, including play and creative therapies and group work. We do this at the centre but even more so in many primary schools and in the majority of secondary schools in Calderdale through a variety of projects and services many funded by Calderdale's Local Transformation Plan or funded directly by schools themselves.

We are currently unable to provide any services to these children and young people we would ordinarily see in schools, however, we would like to utilise our skilled professional staff team in supporting parents/carers and school staff during these rather uncertain and emotionally confusing times. Parents/carers and school staff are key to maintaining and enabling the positive well-being of all children and young people, now and in the weeks and months ahead. They need to be emotionally supported in order that they can provide the children and young people they care for with emotionally safe and healthy environment in which growth, creativity, opportunity and hope can be nurtured amidst a time of loss, change and uncertainty.

Phone support available for parents/carers and for staff working in schools Monday – Friday between 10am and 4pm – starting Monday 27th April 2020 Parents/carers and schools' staff will be able to request a call back from a member of the Noah's Ark Centre staff team by sending their brief details and request for a call to the following email addresses depending on if children are at primary or secondary schools or which of these staff are working at.

Primary schools email: pri.sch.cal.support@noahsarkcentre.org.uk

Secondary schools email: sec.sch.cal.support@noahsarkcentre.org.uk

The support available will be for parents/carers and staff to offload their worries and concerns: a space to explore their situation a little and their thinking about their relationships with and support of their children and young people. We will listen, support, offer advice where we can and signpost to other services where appropriate. The calls will be kept confidential with the usual exception of significant safeguarding concerns which we will need to refer on to appropriate safeguarding teams and services if these were to arise. Our staff responding to requests for support are all experienced and trained in emotionally supporting children, young people and adults and all have experience of working in schools. Some staff have particular training and experience working with families and/or with children with special needs, learning difficulties, or who are on the Autistim Spectrum.