Healthy Holidays Summer Camp 2022
Healthy Holidays Summer Camp 2022
23 June 2022 (by admin)
Summer Activities Camp at St Malachy's School.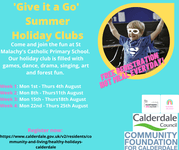 We are delighted to announce that St Malachy's School will be the venue for another Healthy Holidays Summer Club.
The club that took place at Easter was an amazing success and the children who attended had a fantastic time.
The club is free to children who are in receipt of Free School Meal entitlement.
Registrations open tomorrow, Friday, 24th June.
Anyone struggling to register their child for a place, please contact the school office and we can sort.
Share this: