This Dad Can!
This Dad Can!
4 December 2017 (by Lois Kozlowski (Admin2))
The first session of the dads' club starts on Monday, 4th December at 7:30-9pm in school.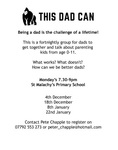 This is a fortnightly group for dads to get together and talk about parenting kids aged 0-11.To register, ring Pete Chapple on 07792553273.