Lenten Fundraising Activities
Lenten Fundraising Activities
8 March 2019 (by Lois Kozlowski (Admin2))
Over the next month, we will be raising money for The Good Shepard Appeal by fundraising during our Lenten period.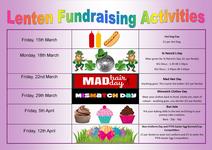  Friday 15th March - Hot Dog Day. £1 a Hot Dog.
 Monday 18th March - St Patrick's Day. Children are asked to wear green for the day (£1 per family) KS1 Disco 1:45pm till 2:30pm, KS2 Disco 2:45pm till 3:45pm. (Children can bring in their own sweets for the Disco as there will be no Tuck Shop).
 Friday 22nd March - Mad Hair Day. How crazy can you style your hair? (£1 per family)
 Friday 29th March - Inside out, upside down. Wear your clothes in an unusual way. Wear your t-shirt inside out or back to front! (£1 per family)
 Friday 5th April - Cake Sale. Put your baking skills to the test and bring in your yummy cake creations to sell to raise
money.
 Friday 12th April - Non-Uniform Day (£1 per family)