FUNDED NURSERY PLACES AVAILABLE NOW - PLEASE CONTACT SCHOOL FOR MORE INFORMATION - 30 HOUR FUNDED PLACES AVAILABLE
VISIT OUR SCHOOL
If you would like to come and have a look around our school, please contact our school office 01422 244628, who will be happy to arrange a convenient time for you to come and have a look around school.
Please pass this information on to anyone you know, who has children of Nursery/School age.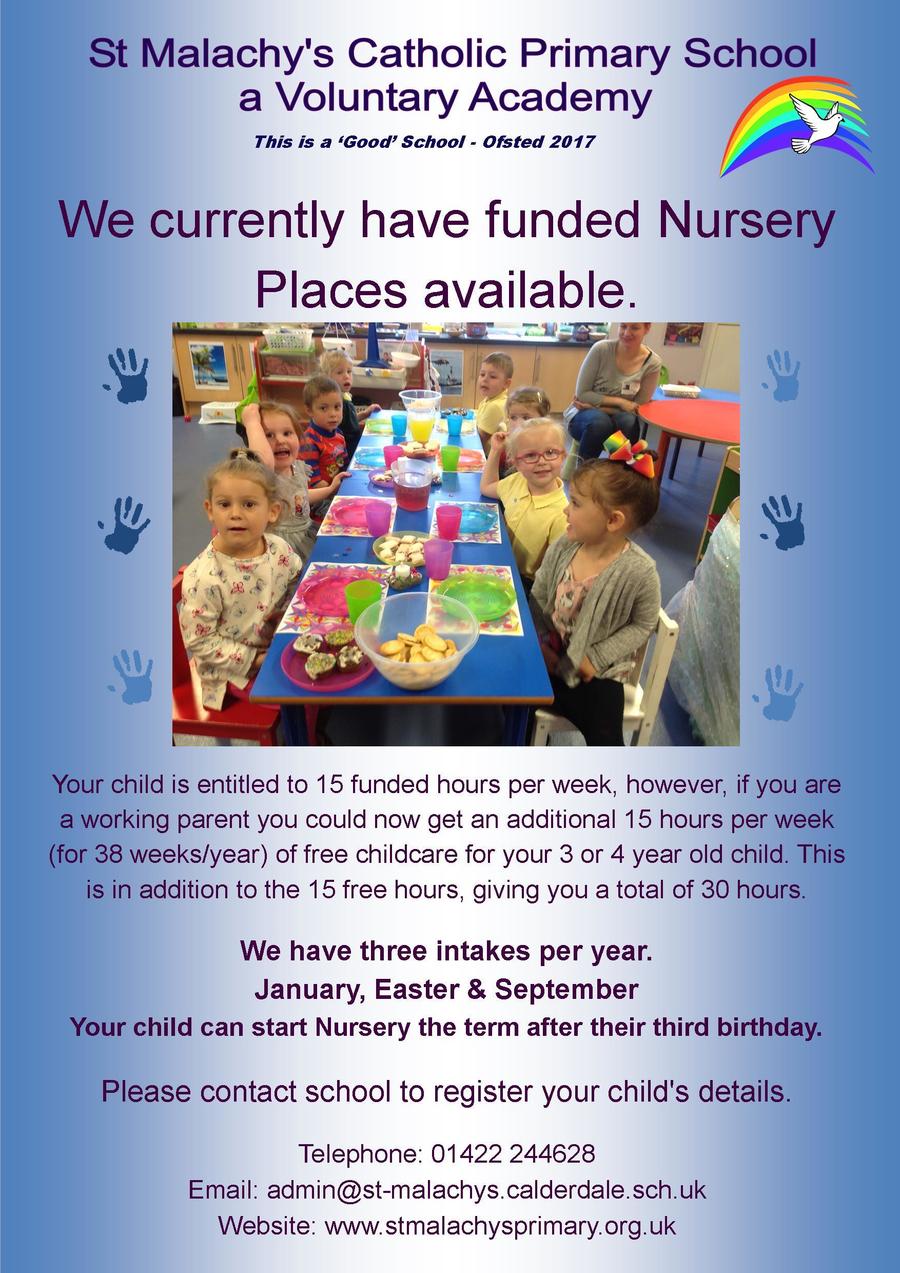 ADMISSION TO NURSERY
Our next Nursery intake is September 2022
If your child will be 3 years old before 31st August 2022 - please contact the school office to register your child for a funded place.
admin@st-malachys.calderdale.sch.uk - 01422 244628
There are three intakes per year to St. Malachy's School Nursery, September, January and Easter.
Children can attend Nursery the term following their third birthday. Children are entitled to 15 funded hours per week (Universal Funding).
Additional paid hours can be arranged with school. These are charged at £10 per 3 hour session. In addition to the Universal Funded Hours, working parents may be able to claim for an additional 15 hours Funded (Please see details below).
From September 2017, eligible working parents can claim an additional 15 hours of funded childcare per week, for 38 weeks each year. This is on top of the universal entitlement of 15 hours.
For further information & to check eligibility criteria follow the link below:
Funded Childcare for Working Parents
If you would like to register your child for a Nursery place, or require any further information please contact the school office.
St Malachy's Catholic Primary - Early Years Foundation Stage Booklet
ADMISSION TO PRIMARY SCHOOL SEPTEMBER 2022
Children born between 1st September 2018 and 31st August 2019 are due to start primary school in September 2023.
Apply online between 18th November 2022 and 15th January 2023.
National Offer Day - 17th April 2023
Applications now closed
IN YEAR TRANSFERS TO ST MALACHY'S SCHOOL
If you are considering transferring your child to St Malachy's School during a school term, please contact school to ask about available places.
Please be aware that you will be asked to complete an In-Year Tranfer' Form. This form is then sent to Calderdale Admissions Team.
The Admissions Team and schools within the North Halifax area meet every two weeks to discuss 'In-year transfers'. Following the meeting you will receive a letter from Calderdale Admissions informing you if a place as been allocated.
More information on 'In-Year Transfers'
Apply Online for an 'In-Year Transfer'