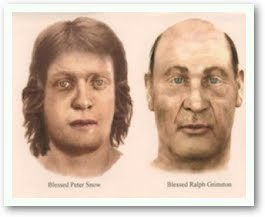 Blessed Peter Snow was born at or near Ripon. He belonged to a prominent family. Peter Snow arrived at the English College, Reims, on 17 April 1589. He became a priest on 31 March 1591. Six weeks later he set off for England and returned to Yorkshire.
Peter Snow was arrested about 1 May 1598, when on his way to York with Ralph Grimston of Nidd. Both were shortly after condemned by representatives of the anti-Catholic government (headed by Elizabeth I). Fr. Snow was convicted of treason because he was a Catholic priest and Grimston of felony, for having aided and assisted Fr. Peter Snow. They were martyred in York on the Knavesmire on 15 June 1598. Afterwards their severed heads were impaled on spikes and exposed in the town as a warning to all.
Very soon both would be venerated as members of that noble company of English Martyrs who gave their lives for the Faith during the 16th and 17th centuries.